Hi. My name is Megan. Mummy to Alfie (4) and Freddie (5 months).
Freddie was born with unilateral microtia on his right ear. He was 7 weeks early, and after an emergency C-Section delivery, he was taken straight to NICU. I didn't meet him until the next day, but my partner had gone to see him in NICU and sent me lots of beautiful pictures and videos of our tiny tot. I didn't notice his ear initially on the photos, and then my partner returned to my bedside in hospital and mentioned his right ear hadn't formed properly. I didn't understand at first what this meant, I thought maybe the skin had fused together or it was because he was squished in the womb.
In the early hours, I asked the midwife to wheel me down to NICU, and there I met my baby boy for the first time. He was everything I dreamed of. I held him for the first time the following day and that's when I saw his 'little ear' up close.
The right side of his tiny face seemed slanted when he was born, which sparked concern to the consultants, so they had photos taken of him to be sent to Craniofacial at Alderhey. I was naturally worried, anxious and scared. He had various checks of his eyes, heart, and brain whilst in NICU, so I became used to everyday there being a different check. They didn't conduct the routine hearing screening in NICU due to his microtia, I was referred for an Outpatient Audiology appointment.
Nobody diagnosed him with microtia until around 2 months old. A word I had never heard before. I was left trusting Google to tell me all the answers to the many questions I had. I remember feeling all sorts of emotions, wondering what I had done wrong in pregnancy, why it wasn't detected at a scan, was it genetic, the list went on…. My mind would then race thinking about Freddie's future. I worried about what other complications he may have, would his speech be affected, how would he get on playing as a toddler, the thought of him going to school and potentially being picked on. I couldn't stop myself thinking this way.
I then discovered the Microtia Mingle UK Facebook page and decided to post a photo of Freddie briefly detailing our story. I was overjoyed with the number of likes, kind comments, well wishes and supportive messages we received. It meant the world to me, and I didn't feel as alone anymore in this brand-new world we are now living in.  
Audiology at Burnley was so welcoming. At 8 weeks Freddie had his screening, but the results for his 'big ear' where not as good as they hoped, so we were sent another appointment 6 weeks later. At this appointment, Freddie's hearing in his 'big ear' came back as being fantastic, and they even managed to pick up some sound frequencies on his microtia side! I still didn't know exactly what this meant fully for his hearing, but I was over the moon; my baby boy could hear me!
The appointments then came fast, and lots of them. Kidney scans, MRI's, visits to see the Craniofacial team. I felt as though I was at a different hospital each week and felt overwhelmed some days, but I knew they were doing all they could for Freddie to see what was happening alongside the microtia, if anything.
As it stands now, we are waiting for his genetics to come back, his MRI results to see if he has an ear canal, ear drum etc, a BAHA consultation and ear reconstruction consultations for when he is older. He is now 5 months old and every day I feel so much more confident about his future. He is a beautiful, happy, and content baby boy. He smiles, giggles and babbles away. I know he can hear us; he is responsive to sounds and thoroughly enjoys all the baby classes we attend. We have recently joined a 'Sign and Rhyme' baby class where we learn basic British Sign Language to stories and nursery rhymes. I have made friends with some other mums in the local area whose children have the same condition, which has helped me a great deal. It's someone to speak to about appointments and results, to share the good days and bad days and I don't feel alone anymore.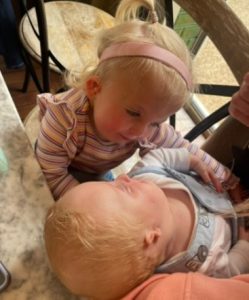 I don't shy away from talking to people we meet about his microtia. It is part of him, who he is and what makes him special.
If anything, it has opened my eyes to the beauty of differences in people, it has made my eldest son an even better big brother then I ever imagined. It is teaching him the importance of sign language and to accept and celebrate that people are different.
Written May 2022.